San Juan Islands Kayak Tour: June 4-10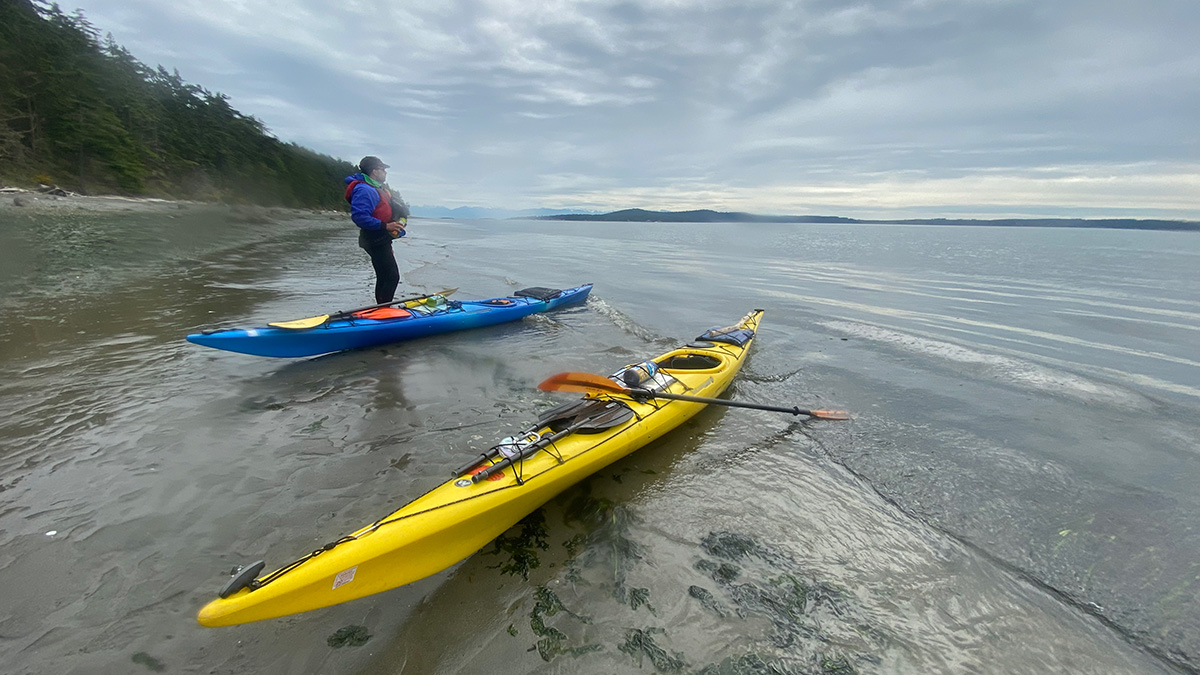 Join the ORC for an intermediate level, expedition style, 5-day sea kayak tour in Washington's San Juan Islands. Advance your sea kayaking skills as you explore one of the most majestic and iconic locations in the Pacific Northwest. The San Juan Island archipelago ecosystem is populated by some of the most spectacular wildlife in the country. Each day we'll adapt our pace and plans to navigate the tides and currents in the channels of the Salish Sea. With our camping equipment packed neatly into our boats, we'll search for a new island (and campsite) to call home each night. 
The Pre-Trip Meeting will be Monday 05/23 at 5pm at the Outdoor Recreation Center and the Kayak Skills Pool Session will be Tuesday 05/24 from 7pm-10pm.
Trip Cost Includes:
sea kayaks
dry bags
wet suits and other boating gear
camping equipment transportation
ferry to San Juan Islands
campsite fees
trained adventure facilitators
Food is not included.
Contact
Jonathan Stahl | jmstahl@wsu.edu.
Cost
SRC/Chinook Members: $375
Non-Member: $650
Student summer memberships $69 and up.
Faculty/Staff summer memberships $78 and up.
Level 4
Given the duration and dynamic marine environment involved in this expedition, this trip is rated level 4, and is reserved for intermediate level paddlers (participants with previous kayak touring experience). If you have never kayaked before, please consider joining the ORC for any of our beginner-friendly kayak tours and/or clinics. 
Good physical condition is required, specific experience is required, and technical proficiency is highly recommended.
We will be paddling on a massive body of water with conditions that can change quickly. As such, previous kayaking experience is required.
This trip requires that participants are in good physical condition and are able to paddle about 10-15 miles/day, hike, camp, and live in a cold weather environment for 5 consecutive days. If you have any questions, please consult your physician.
Participants must be able to demonstrate proficiency (after instruction and practice) in wet exits, re-entry, and boat-over-boat rescues at mandatory pool session/pre-trip meeting.
Cancellation Policy: In order to minimize our environmental impact, maintain facilitator-to-participant ratios, meet permit criteria, and transportation logistics, ORC trips are often programmed for small groups (typically up to 6 participants with 2 facilitators). Late cancellations can seriously impact our ability to accommodate others and recover costs. • Cancellations made up until 4 weeks prior to the registration deadline will receive a full refund. • Cancellations made within 4 weeks of the registration deadline receive 50% refund. • Sorry, no refunds are given past the registration deadline. Participants may not be under the influence of alcohol or other drugs during an ORC activity. Drugs and alcohol are not permitted in WSU vehicles/vessels or at campsites (or other accommodations) at any time. Depending on the severity of infraction of rules and policies, a range of disciplinary actions may take place from a verbal warning to removal from activity, contacting local authorities, and the office of student conduct.